CV / TRAJECTORY
Steven Appleby
His work first appeared in the New Musical Express in 1984 with the Rockets Passing Overhead comic strip about the character Captain Star, which also appeared in The Observer, Zeit Magazin (Germany), as well as other newspapers and comics in the UK, Europe and America. Other comic strips followed in many publications including The Times, the Sunday Telegraph and The Guardian. Appleby's work has also appeared on album covers, most notably Trompe le Monde by the Pixies. In 2014 he produced over 100 drawings for Black Francis & Josh Frank's novel The Good Inn.
His series of cartoons Steven Appleby's Normal Life was successful enough not only to be translated into German and published in Frankfurter Allgemeine Zeitung, but also to be made into a radio series for BBC Radio 4. An earlier series, Small Birds Singing, which ran for eight years in The Times, concerned itself with the usually surreal doings of the occupants of an English country house.
Appleby has also had many exhibitions of paintings, published over 20 books and collaborated on a musical play, Crocs In Frocks (with Teresa Early and Roger Gosling), which was staged in Camberwell and at the ICA, London, in 2006.
His most recent book, Guide to Life, was published by Guardian Books in October 2012.
taken from WIKIPEDIA (https://en.wikipedia.org/wiki/Steven_Appleby)
taken from WIKIPEDIA (https://en.wikipedia.org/wiki/Steven_Appleby)
My daughter Begoña, years ago, 2003 let's say, tells me that she is delighted with a humorist who makes vignettes about dogs and cats.
It turns out to be a Steven Appleby.
Working in the store (months later) appears a strange customer, character of uncertain age and unmistakable aspect of "star", outfit and accessories, rings, flashy … but it gave me the feeling of trying to go unnoticed …
In other words, all his movements were measured, while looking at the different showcases and commenting with the woman who accompanied him until he decided to see some pieces.
These were a silver ring, made with one of the tourmalines, of the series that I used for the one I wear, and the other a silver pendant that I made years ago with a huge black coral, a slice of a log of coral, what I brought over from Argentina …
I was struck that the person had chosen two of my works and that both also were charged with a strong significance for me …
Later, almost finishing the sale cause in the end he decided to buy the two pieces, I knew they were for himself, and with the help of his friend Karen who accompanied him, I also knew and with surprise that it was Steven Appleby himself and did not resist telling him the story of Begoña (who would be 14 or 15 years old) and "loved" his work … Steven promised at that time to send a gift book for her and after a couple of months, a letter arrived, by registered mail, containing postcards and a series of small books with the jokes of dogs and cats that Begoña had liked so much …
This was the first encounter with Appleby.
Steven offers me the possibility of making "Jewelry" with his comics.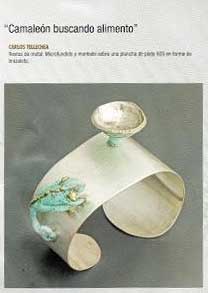 For the purpose of taking the work process out of the order, or a work proposal that Steven made during one of the visits to Mallorca. A logbook of the related events. Share the creative / productive process. Of course I need accomplices …

He saw a bracelet I had made for a Unique Piece contest at the Zaragoza Craft Fair and he proposed me, to work on a series of pieces of Jewelry or a Collection based on his Comic and Ilustration characters.
The proposal was based on the work already done by Linda McCarty in ceramics. See link
The proposal was based on the work already done by Linda McCarty in ceramics.
A look at the world of Steven Appleby. see links
FIRST PHASE
I consider the work as an artistic reflection working in Jewelry.
Taking Steven's work, illustration and Comic, focused on the comic, I reread seeking to familiarize myself with the style, "THE TRUTH ABOUT LOVE" and "NORMAL LIFE" ..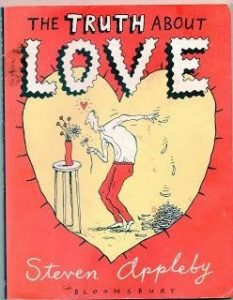 Steven Appleby's humor of fine English irony causes a polar reaction …
You love it or you hate it…
A naive depth observing intimate behaviors and supposedly private issues of couples, which are so daily for all of us, beeing the subjects which nurture his cartoons …
His elementary style, a total economy of lines in the service of expressing the humorous idea.
Appleby's characters are two-dimensional and elementary illustrations and function as characterization.
My own idea of ​​artistic, sculptural work based on jewelry, three-dimensional by definition, faced the two planes of the Comic and also the Factor "Humor" as another aspect difficult to connect, since the Jewelry itself as such is by definition quite far from humor.
Resources
"Repetition is one of the first options I consider when I see Steven's way of working. The comic technique itself, which takes into account ""repetition"" with variants, and relies on it, almost like in ""animation"", to achieve a chronological sequence and thus a ""narrative"" of the story."
The confrontation between the opposing "man-woman" archetypes in order to achieve the "ideality" of the couple through unity.
The ambiguous, sexually equidistant view of the situations described.
These are some Steven Appleby products, if you want to see more you can go to the Online Store.
Steven Appleby's latest exhibitions